---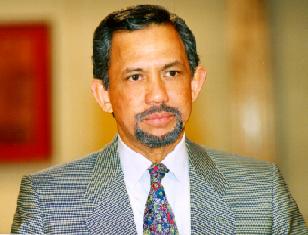 SULTAN HAJI HASSANAL BOLKIAH
SULTAN DAN YANG DI-PERTUAN NEGARA BRUNEI DARUSSALAM

The Sultan and Yang Di-Pertuan is Supreme Executive Authority in Brunei Darussalam. In performing his duty His Majesty is assisted by the following Councils: the Religious Council, the Privy Council, the Council of Cabinet Ministers and the Council of Succession; and in addition, the Legislature.
BIRTH
His Majesty was born on July 15, 1946 in Brunei Town (now Bandar Seri Begawan).
EDUCATION
His Majesty had his early education in Brunei Darussalam and then went to Victoria Institution in Kuala Lumpur, Malaysia, to further his studies. His Majesty was trained as an Officer at the Royal Military Academy, Sandhurst (United Kingdom) in 1966-67.
CAREER
His Majesty was installed as The Crown Prince in 1961 at the age of 15. Following the voluntary abdication of his late Father, Al-Marhum Sultan Haji Omar Ali Saifuddien Sa adul Khairi Waddien, His Majesty was installed as the Sultan and Yang Di-Pertuan on 5th October 1967. His Majesty was crowned as the 29th Sultan and Yang Di-Pertuan of Brunei In 1978, His Majesty led a Mission to London for discussions with Her Britannic Majesty's Government on the change of status of Brunei Darussalam to that of a sovereign, independent state. The outcome was the Treaty of Friendship and Co-operation between Brunei Darussalam and Great Britain under which the British Government relinquished its responsibilities for the conduct of Brunei Darussalam's Foreign Affairs and Defence on 1st January 1984.
FAMILY
His Majesty is married to Her Majesty the Raja Isteri Pengiran Anak Hajjah Saleha. He has four sons and six daughters( inclusive of the children from his ex-wife,Hajjah Mariam).

RECREATION/HOBBY
His Majesty is a keen Polo Player. He also plays Squash and Badminton. His Majesty is a qualified helicopter pilot.

DECORATION
Sovereign and Chief of the Family Order of the Crown of Brunei DKMB.

OFFICIAL RESIDENCE
Istana Nurul Iman, Jalan Tutong, Bandar Seri Begawan, Brunei Darussalam.
ROYAL LINEAGE